Community and Creative Destruction
Last weekend Ramona and I enjoyed a 500 mile road trip with close friends. We drove to Fort Benton, Montana, a town established in 1847 by fur traders. It peaked in population, some 2000 residents, and prosperity in the mid-1800s.  The town was the world's "innermost port" and the head of navigation for the Missouri River steamboats, the highest point reached by steamboats.
Fort Benton was the fortified trade center for the American/Canadian Rocky Mountain region, first for trappers and then for miners traveling into Idaho and Canada. Riverboat travel on the Upper Missouri River to Fort Benton provided passage for miners and goods for Montana's new gold field: Virginia City/Bannack in 1860 and Helena, in 1865. 
The river was barely navigable, dangerous and arrival was highly uncertain. In sum, Fort Benton was expensive to reach. Thus, the town became a victim of creative destruction when in 1887 the railroad arrived. Dependable and less expensive railroads soon totally displaced steamboats. Because Fort Benton's prosperity was solely dependent upon being the major trade center of the region, its success ended when the railroads created numerous trade centers along its route.
Although society as a whole was far better off with the advent of the railroads, this once thriving town suffered as a result of economic progress; it lost its monopoly as a trade center.  Over the past 135 years, Fort Benton's population has declined from 2000 to 1400, a reduction of 30%.
Fort Benton demonstrates a common trajectory in our region. Many towns that had prospered due to their location and natural resource endowments suffered painful declines. Only a few, Bozeman for example, have experienced ever rising prosperity. 
Today, Fort Benton's beautiful location and four museums make it a popular tourist destination. The historic Grand Union Hotel has witnessed Fort Benton's transformation from trade center to tourist attraction. Built in 1882, at the pinnacle of the steam boat era, the Grand Union Hotel was a symbol of Fort Benton's prosperity.  A year later, the completion of the Northern Pacific Railroad to Helena combined with the Canadian Pacific Railroad to Calgary heralded a grim future for the town. The collapse in business caused the hotel to fail in 1884.  For $10,000, $280,000 in today's currency, Mr.  J.H. Green and Mr. B.F. O'Neal bought the hotel in 1899.  Eighteen years later, in 1917, Mr. and Mrs. Charles Lepley purchased the renovated hotel.  Another devastating blow came just two years later. Prohibition closed the hotel's saloon and America's Great Depression of 1929 descended a decade earlier in the agricultural sector.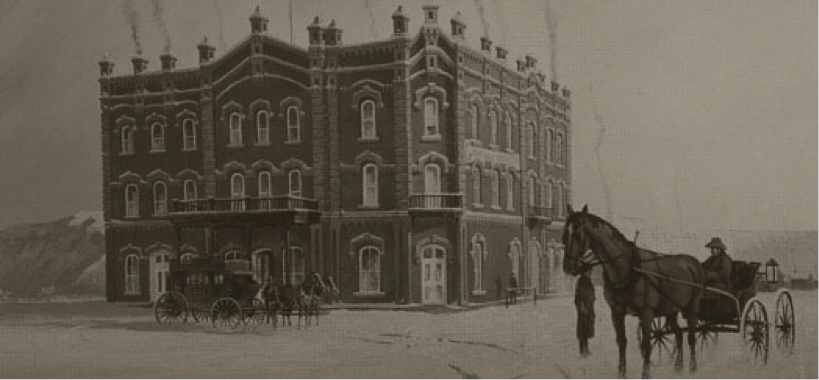 Historic Grand Union Hotel, Fort Benton MT, www.grandunionhotel.com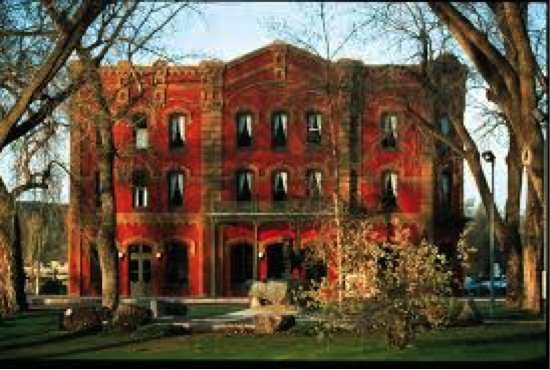 Modern Grand Union Hotel, Fort Benton MT, www.montanaliving.com
We drove back from Fort Benton through Belt and White Sulphur. Both have impressive business buildings from the 1900 era but both towns show wrenching signs of poverty and decay.
Belt, Montana became a burgeoning town in 1870 when Pennsylvania native John Castner discovered rich coal deposits along Belt Creek.  A few years later, Castner and T.C. Power, a Fort Benton fur trader, opened up a commercial coal mine whose main customer was the Great Northern Railway. Castner and his wife then established a stage station and hotel in 1885 along the Lewistown – Great Falls Road. When Anaconda Copper Mining Co. bought the mine from Castner and Power, it expanded in 1894 and the commercial district of Belt was relocated next to the stage station.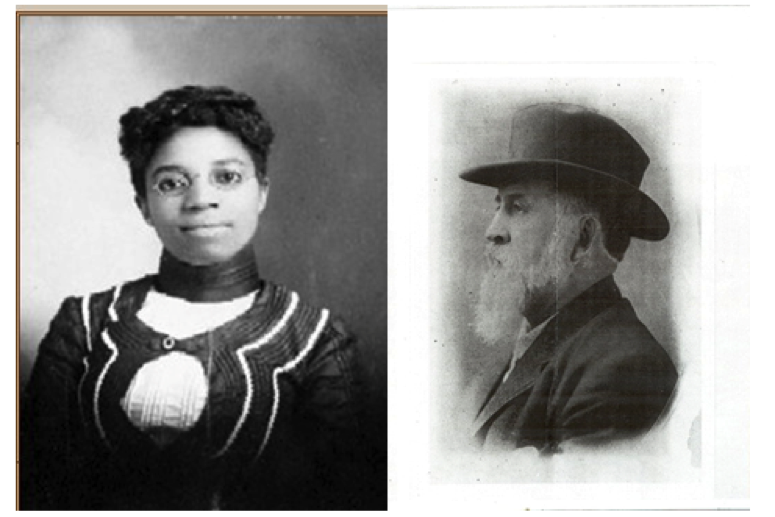 Mattie Bell Castner and John Castner, www.interracialmarriageandfamily.com                        
While the railroad extinguished Fort Benton's prospects, it greatly amplified Belt's. Over the decades the downtown transitioned from wooden front buildings and saloons to impressive brick and stone construction. 
At the turn of the century, Belt demonstrated both prosperity and optimism with a booming population of 1158. Today, Belt has been absorbed into the Great Falls economy, a mere twenty miles away.  Belt's population is approximately 600. Small as it is, Belt boasts its own microbrewery, Harvest Moon Brewing Company, which proudly uses local barley.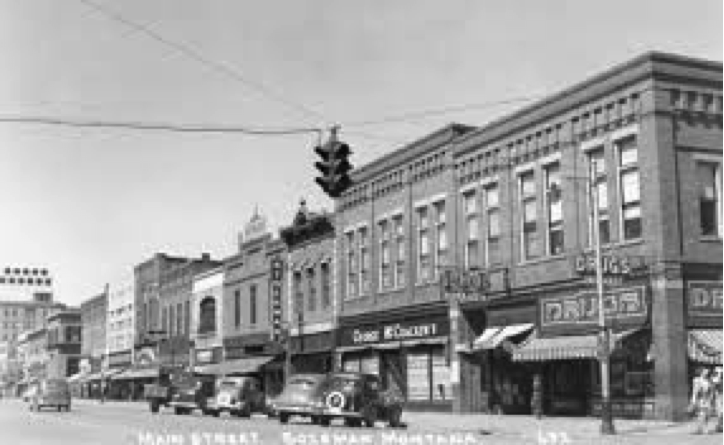 Historic Downtown Belt MT, www.taunyafagan.com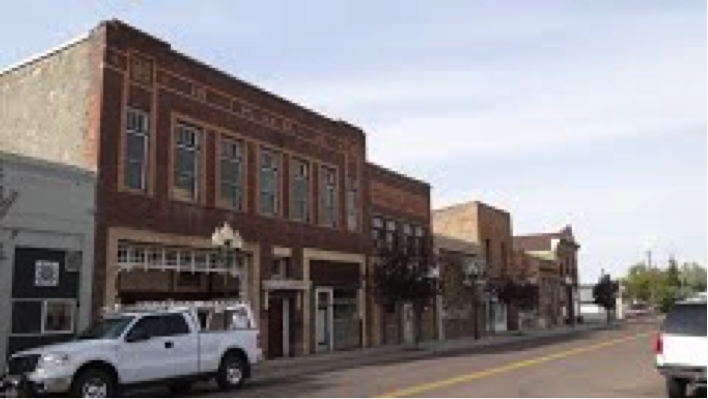 Modern Downtown Belt MT, www.tripmondo.com
Small towns dependent on a single industry can become dramatic casualties when technology and commerce change. The railroads transformed the character of Montana's towns of Fort Benton and Belt. Fort Benton languished as steamboat traffic dwindled while Belt evolved with the railroad's expansion.
Industry continues to offer small towns the chance to transition from economically struggling to robust commerce. People in small, declining towns are not isolated and insulated from contemporary culture and economy. They know they are poor and wish they were not. Many see traditional industries as an opportunity to become economically robust. 
White Sulphur Springs, MT faces a momentous decision as it weighs the pros and cons of having Tintina Resources Inc., a Canadian company, develop a copper mine on Sheep Creek, a tributary to the famous Smith River. Certainly, the economy has been depressed in White Sulphur since the lumber mill closed decades ago. The mine could infuse the town with 150 employment opportunities, increased income, and rising revenues for approximately 14 years.  According to Hieth Stidham, president of the city council, "the support of the public is absolutely phenomenal."
However, the town's citizens' optimism is not shared by those concerned about the mine's close proximity to Sheep Creek, a vital tributary that feeds the spectacular Smith River. Opposition to the proposed mine is led by the nationally prominent and powerful Trout Unlimited. In contrast to the locals, TU's members have high educational and economic attainments. By any measure, the residents of Montana's traditional small towns live modest lives.  What happens when people of modest achievement confront outside forces comprised of people with elite educational and economic achievements? 
 A future FREE Insight will explore one such conflict.
Data from:  www.city-data.com 
 

BELT, MT

WHITE SULPHUR, MT

POPULATION (2012)

606

970

TOWN SIZE

.34 sq. mi.

.92 sq. mi

INCOME PER CAPITA (2012)

$20,588

$18,334

MEDIAN HOUSEHOLD

           INCOME (2012)                             

$35,716

$32,147

EDUCATION:

 

 

         ASSOCIATE'S DEGREE

5.5%

5.8%

         BACHELOR'S DEGREE

9.5%

13.5%

         MASTER'S DEGREE

1.6%

1.1%

         PROFESSIONAL DEGREE

0.0%

0.5%

       DOCTORATE DEGREE

3.2%

0.0%

PRESIDENTIAL ELECTION:

                 (2012)

 

 

        REPUBLICAN

53%

69%

        DEMOCRAT

44%

28%