The last FREE Insights, January 15th, focused on community security.  I noted the next few FREE Insights would explore another feature of our local culture, strong commitments to deliver necessities and services to the poor, unfortunate, and the needy.  This is true but incomplete.  The community also responds to victories and promising opportunities.  Here is an example.
Joe Olson is a 14 yr old competitive Alpine skier and a 5th generation Montanan.  He had the good fortune of growing up in the mountains near Gallatin Gateway and began skiing at three.   Joe is in his 6th year of training with the Big Sky Ski Education Foundation.
He competes with both the USSA and IFSA organizations as an Alpine Racer, Freestyle and Freeride Big Mountain competitor. He was recently selected to compete at the 2015 Freeride Junior World Championship in Grandvalira, Andorra. This is an extreme, big mountain, freeride event including the top junior athletes from around the World.
Andorra, is a microstate in the eastern Pyrenees mountains and bordered by Spain and France. International travel is a stretch for Joe and his mom, a modest family.  To support his adventure, the Gallatin Gateway community recently held a fundraiser to help Joe reach his goal of attending the World Championship next month.
There are actually two community centers in Gateway.  The Willing Workers Ladies Aid (WWLA), an organization created to support American military in World War I, built one.  It was constructed in 1992 entirely by volunteer labor, private donations, and donated material.   To raise funds for years the Ladies Aid sponsored corned elk dinners on Saint Patrick's Day, held Ladies Aid annual play and auction which raffled off rifles, saddles, hunting trips, and other western prizes. 

Few New Yorker subscriptions arrive in the Gateway Post Office and I've yet to see an Obama bumper sticker on a pickup outside our second community center, Stacey's Bar.  (Officially it's the Old Faithful Bar but I've yet to hear a local call it that.  It's always just Stacey's--even though that old owner and rodeo rider has been dead for decades.)  
Toni, Stacey's daughter, held Joe Olson's ski benefit at her bar. The benefit started at 1:00 and lasted until the winning ticket for the rifle raffle was drawn at 6:00.   Here is a candid shot of people attending.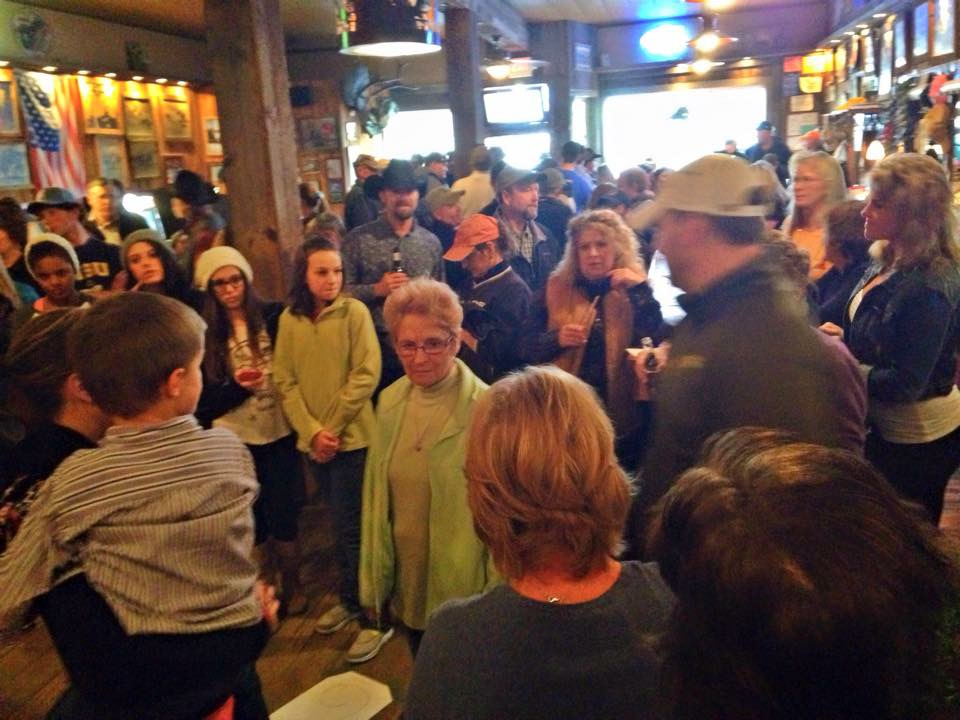 Such community support is common in small places like Gateway.  In 2014 this unincorporated town, zip code 59730, had a population of 1776 individuals. Fortunately, the same sense of community support for good causes flourishes in Bozeman and throughout Gallatin County, population 40,000, and throughout Gallatin County, population 100,000. Gallatin County is larger than Delaware and over half the size of Connecticut).  Here is another well-documented example from Bozeman, the county seat of Gallatin County.
Bob Flaherty, MD, wrote a feature column on Bozeman's warming center for the Wall Street Journal on January 16th.    Here begins Doctor Bob's second paragraph: "It is already below zero outside the converted machinery-rental shop that serves as Bozeman's Warming Center for the homeless.  A local nonprofit, the Human Resources Development Council, opened the center a few years ago after a homeless man froze to death...."
A few days later the local paper followed with an opinion piece, "Shelter's success a positive step for Bozeman".  It noted the Community Co-op allocated a portion of its Christmas week sales to the Warming Center and a music student organized a benefit concert.  Of course a many individuals wrote additional checks.  A surprising thing is that people here aren't surprised.  Generosity is the norm throughout our community. 
It is no wonder the Bozeman area has become a magnet for active, aware, and talented people.  In addition to the natural beauties surrounding it, it has remarkably good education, transportation, and health care.  It also demonstrates strong community responsibility.  Further these qualities are independent of political allocations and the accompanying insensitivities and inefficiencies we have come to expect from government bureaucracies.