FREE's latest Yellowstone Park project is a course, "Yellowstone and the Second Century of Our National Parks".  It is offered in MSU's Wonderlust program, a part of its Extended University. The University created the Wonderlust program for adults interested in exploring intriguing topics ranging from art to zoology. While open to all, the majority of "students" are accomplished retirees with intellectual and historical interests.  The course begins September 12th. and will meet each Tuesday at 3:30-5:30 from September 12th to October 3rd at Hope Lutheran Church, 2152 Graf St, Bozeman. 
If you or you know people interested in Yellowstone and other "romance" and wild lands, I suggest this opportunity.  Those with deep or specialized knowledge of Yellowstone are especially welcome.  If sufficiently fortunate to live or be here, you can register for the course at https://eu.courses.montana.edu/CourseStatus.awp?&course=17FWLPARKS. Here's why we created it. 
 Ramona and I have long and deep interests in Yellowstone Park.  Ramona grew up on an Idaho farm near the Park's western boundary.  She often watched hotels feeding food scraps and leftovers to grizzly bears.  We visit Yellowstone several times each year--but rarely in the summer.  It's far too crowded for comfort.   
Our ranch lies in the Greater Yellowstone Ecosystem and just an hour north of the Park boundary.  I've written on Yellowstone extensively and FREE created a website http://yellowstonesuite.com/.  In anticipation of the wolf's reintroduction in 1995 we also produced hundreds of Yellowstone Homecoming posters.  Contrast this:

With this: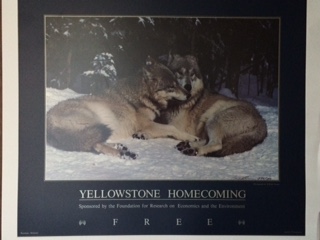 Course description

How has Yellowstone National Park survived as a national treasure that can be enjoyed by the public, yet retain its wildness? Success at striking the balance depends on the National Park Service's management strategies. We will consider how Park management changed as scientific knowledge increased, demand for access grew, and competition for government funding intensified.
We begin with Yellowstone's early management by the Army. Testimony of its success will come from FREE's republication of John Stoddard's book from his travels in the Park during the 1890's (You may purchase the book at the Gallatin History Museum with all proceeds going to the museum).
Next, we will examine the success of Park leaders who tackled three major problems: feeding bears, eliminating predators, and extinguishing fires. Each of these had developed political constituencies that wise leaders successfully overcame.  
Finally, we will examine emerging threats to Yellowstone and other "romance lands".  We conclude by exploring entrepreneurial conservation efforts.  These include those by Yellowstone Forever and American Prairie Reserve. Might these young public charities, 501 c-3s in the tax code, equal the success envisioned by the Progressives when they created the Park Service in 1916?